Who: Beyonce, new mother and great singer.
Where: The Met Gala of 2012.
What: A black, purple, lacy, feathery dress by Givenchy. Check it out:
Dishing the details of the gala:
Beyonce kept the paparazzi waiting, showing up several hours late. But when she came, the cameras did flash! Beyonce is wearing a new creation from Givenchy, the brand we all know and love. But is Givenchy's new creation for Beyonce as loveable as the brand's former concoctions?
What
Madame
thinks:
Beyonce is bold with her clothing, a part of her personality that is usually embraced by her fans, one of which happens to be me. But this dress was a little too over-the-top. From the front, it looked like something Beyonce could pull off--but when
Madame
saw the pictures from the back, it immediately became a huge no-no: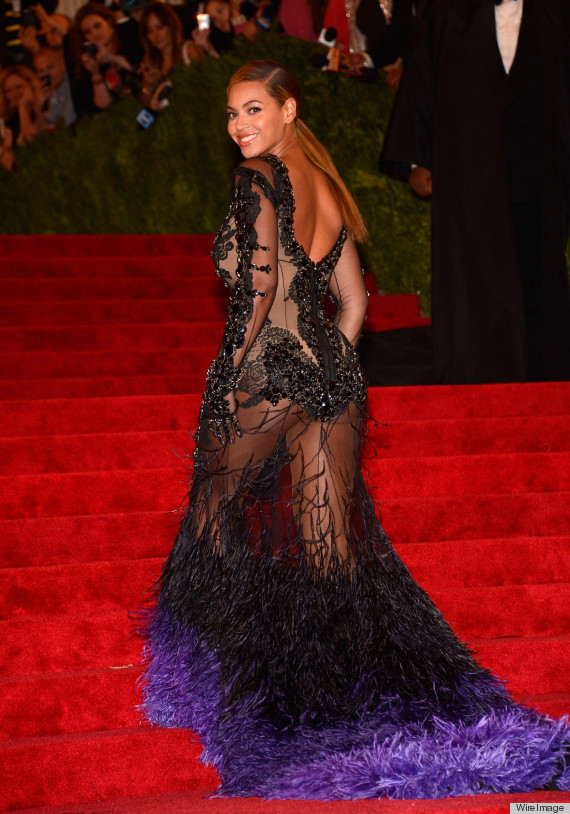 Her whole body can be traced--nothing is left to the imagination in this dress! Way too racy, and definitely an unexpected turn from this star. And where did those feathers come from anyway? True, I love the color--purple sets off black really well--but feathers, against that delicate lace? Another big no-no in this outfit. Sorry, Beyonce, and better luck next time.
A few good qualities:
Beyonce's hair was looking gorgeous in a ponytail, smooth and sleek! Her makeup complemented her featuers well without being overdone. I commend her stylist. But maybe her dress wasn't the wisest choice...